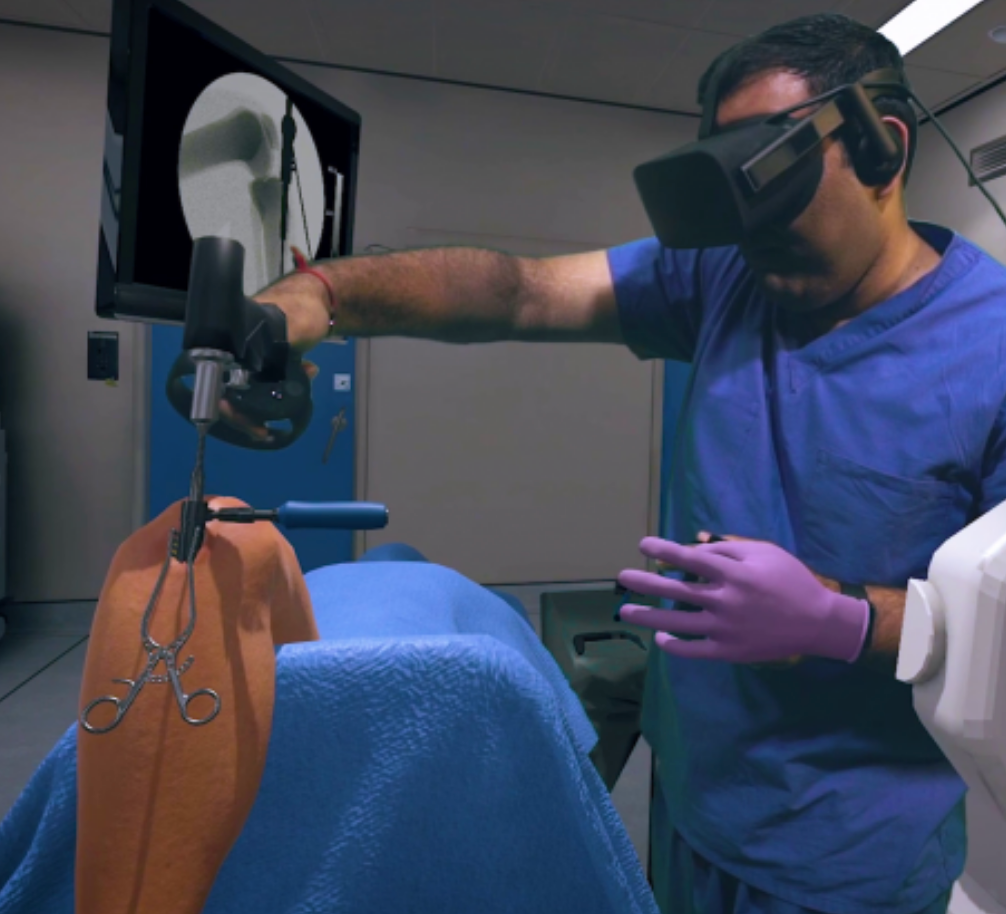 THE TOP 7 VIRTUAL REALITY DIGITAL HEALTH COMPANIES (MedTech Boston)
Virtual reality in medicine is certainly a hot trend at the moment, with the global market for VR in healthcare expected to reach 3.8 billion by 2020. Dr. Justin Barad, orthopedic surgeon and Founder and CEO of startup Osso VR, thinks that virtual reality offers an approach to surgical training that the antiquated method of apprenticeship simply cannot. He summarizes the impact of immersive technology in medicine: "Virtual Reality is a unique technology that has a wide variety of disruptive medical applications. The qualities that makes VR so special are: its immersive quality and sense of presence, neuromodulatory and therapeutic potential, and ability for effective "teleportation." Early studies have shown incredible potential for this technology, and the future looks bright."
Brandon Birckhead, MD, a radiation oncologist who focuses his research on immersive technology, firmly believes in the power of investing in VR in healthcare technology. He says,
"If it was not for the investment in technology in the early 2000s, there would not be over 18 different uses of medical VR in clinical trials today. More investments in medical VR technology will lead to a similar surge in progress within augmented reality and the mainstream adoption of VR by healthcare systems of tomorrow."
Here are the US top 7 startups using Virtual Reality and Augmented Reality to improve healthcare:
Syncthink, located in Palo Alto, California raised a $3,500,000 Series A on January 18, 2018. The company, founded in 2009 by Dr. Jam Ghajar, has developed a fully-integrated VR device used for eye-tracking called EYE-SYNC. It is head-mounted and uses its technology to determine ocular-motor impairments that can arise because of concussions or sleep-deprivation.
Meridiun raised $2,500,000 in seed funding on December 15, 2017.  The startup located in Irvine, California has created a mobile application called AR+. The mobile application runs on smartphone and tablet, and allows clinicians to deploy simulated medical content through audio, video, 3D imagery, and training. As the user looks through their mobile camera, the screen displays augmented reality such that key information appears on their screen.
Vivid Vision raised $2,200,000 in their last funding round in the seed state announced on May 11, 2017. The San Francisco startup, led by CEO James Blaha, has created technology that helps people with lazy eye improve their vision. Users play VR games on the computer at home or under clinician supervision that are designed to treat amblyopia, strabismus, convergence insufficiency, and stereo depth deficiency.
Chief Science Officer, Benjamin T. Backus says, ""Vivid Vision's strength is translating the surprisingly complex science behind vision care procedures into software that is reliable, clinically useful, and relatively inexpensive. We're also excited about our new VR visual field test which we've recently started showing publicly."
Osso VR raised $2,000,000 in their last funding round in the seed state announced on June 14, 2017. This Boston-based startup, led by Dr. Justin Barad, uses VR headsets that track 1:1 movements within the simulation to real time in order to train orthopedic surgeons. The technology is compatible with Oculus and HTC Vive. The startup includes training on placing a tibial nail as well as hip and knee replacement models. Osso VR was selected as a MedTech Innovator and was selected a top education simulation company by the US Department of Education.
Dr. Barad says, "It is up to us as providers, scientists, innovators and patients to continue to push for adoption, validation and most importantly, collaboration and interoperability. Alone we can only make sequential contributions, but together we can make an exponential difference for patients all around the world."

SentiAR has raised $1,100,000 during its last funding round announced in August 31, 2017. The Augmented Reality platform helps clinicians visualize interventional procedures. The hands-free platform projects a real-time, interactive 3D hologram of the patient's anatomy and catheter location. SentiAR is currently working toward FDA approval. Jim Howard, Chief Executive Officer says  "Through the Microsoft HoloLens, physicians have full control of their view using real-time navigation data, rather than MRI/CT, for procedures like catheter ablations."
Immersive Touch, located in Chicago, Illinois, has received $1,000,000 in its last funding round announced January 25, 2018. Their VR solution for surgical training can be found in leading medical centers including Johns Hopkins, the University of Calgary, and the University of Chicago.
Clinicians can upload patient CT/MRI scans into the simulator to create an immersive 3D operating experience.
Jay Banerjee, ImmersiveTouch's CEO, says "ImmersiveTouch has been the premier provider of Virtual and Augmented Reality products and services to the Medical Industry for over 13 years.  Our proprietary haptic technology, FDA approved CT/MRI to VR conversion, and simulation capabilities give us the ability to provide top-notch training, education, marketing, and sales collateral in an amazing, memorable, and completely immersive environment."
Augmented Intelligence Inc. raised $500k in its last funding round, announced on August 3, 2017. Their technology create patients' digital twins based on their CT/MRI for educational and clinical applications. The company's logic behind their VR platform is, the more that clinicians are able to see within this virtual reality creates more knowledge that was previously inaccessible prior to the creation of VR.
Sam Jang, CEO of Augmented Intelligence, Inc says, "Our mission is to create patient's medically accurate digital twin in virtual reality for better visualization to serve greater educational and clinical needs. Digital twin allows doctor to see through patient's body for better surgical planning. It can also reduce radiation exposure by better targeting the lesion from organs at risk."
Header Photo: Osso VR