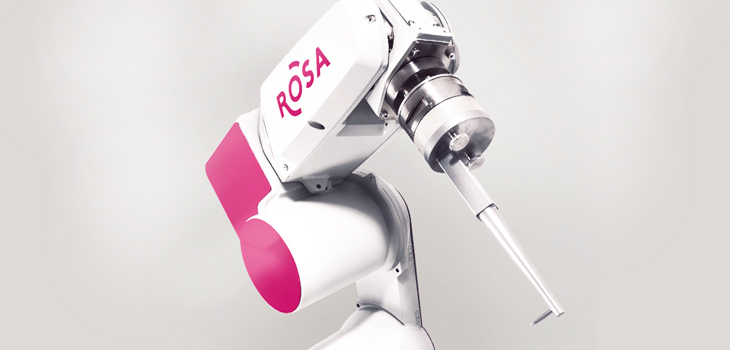 ZIMMER BIOMET JOINS MARCH OF ROBOTICS (Orthopedics This Week)
Zimmer Biomet Holdings, Inc. is joining Stryker Corporation, Smith & Nephew plc and Medtronic plc in the robotics gold rush.
On July 18, 2016, Zimmer Biomet announced it will acquire 59% of a French-based robotic manufacturer, named Medtech SA.
ROSA System
Medtech, based in Montpellier, France, was founded in 2002 by Bertin Nahum. The company designs, develops and markets the ROSA robotic device, an "innovative robotic applications to assist surgeons during their medico-surgical interventions, " according to the Medtech press release.
The ROSA system was designed for various neurological procedures. The company says the system is "comparable to a 'GPS' for the brain, " and can be used for "any type of cranial procedure requiring surgical planning with preoperative data, patient registration and precise positioning and handling of instruments."
It is the only robotic assistant approved for neurosurgical procedures in clinical use in Europe, the U.S. and Canada.
The company stated the system has an advanced haptic capability that gives the neurosurgeon the ability to easily guide the instruments by hand within the limits and restrictions established during the planning stage. "The surgeon is able to easily interact with the robot without changing any of his surgical techniques thus reaping the full benefits of robotic movement."
Spine and Brain
According to Needham & Company analyst Mike Matson, ROSA's initial application was for brain surgery and can be used in 80% of brain surgery procedures. The brain application received a CE Mark in 2009 and an FDA clearance in 2011 and the brain application has driven most of its system sales so far. ROSA can also be used for spine surgery including lumbar fusion. The spine application received a CE Mark in 2014 and an FDA clearance this past January.
Matson noted that Medtech's business has been more brain-oriented while Mazor Robotics' business (recently affiliated with Medtronic plc) has been more spine-oriented. "However, we expect this to change given Zimmer's large spine implant business and as a result we now view ROSA as more of a threat to Mazor. We think that the deal is positive for Zimmer since it provides it with a robotics platform that might eventually have applications beyond brain and spine surgery for a relatively low price."
March of Robotics
This deal makes Zimmer Biomet the fourth major orthopedics company to offer a robotic system, added Matson. Zimmer Biomet joins Stryker (Mako System for hips and knees), Smith & Nephew (Navio System for knees), and Medtronic (Mazor X for spine) in offering a robotics system for orthopedics procedures. "We note that Globus Medical, Inc. is also developing a robotics system for spine surgery. Johnson & Johnson is currently the only major orthopedics company without a robotics system, " observed Matson.
Medtech had $8 million of revenue through the first nine months of its fiscal 2016 (ending June), representing 107% year-over-year growth. Medtech has an installed base of 82 systems (36 in U.S.).
Wells Fargo analyst Larry Biegelsen points out that Medtech sold its first ROSA spine application in the U.S. in March 2016, while Mazor has a U.S. installed base of over 80. "As of May 2016, there had only been 100 spine surgeries worldwide using the ROSA and those were completed by four surgeons. In contrast, Mazor's technology has been used in over 17, 000 cases globally with more than 300 surgeons currently using the robot."
Zimmer Biomet's 59% stake in Medtech cost the company around $130 million with plans to launch a tender offer for the remaining shares.
---
Quotes from the ZB Earnings call
Zimmer Biomet Holdings, Inc. (ZBH) CEO Bryan Hanson on Q2 2018 Results – Earnings Call Transcript
(Seeking Alpha)
We also look forward to products launching at the end of the year including the limited launches of the Persona Revision system and the total knee applications for rROSA robotics platform. As a reminder, the combination of steady state supply in the full launch — and importantly stating the full launch of these differentiated technologies will allow our sales organization to truly go on full offence.

Kyle Rose
Earlier in the call you talked about the rose in the application coming on track for launch. Just want to see if you can frame that out in terms of how you really define a control launches 10 robust to 20 robust? Is it similar customers? Is it competitive customers, the DeNovo robot users versus experienced robot users? And then just on the second part, from a rose prospective is when you anticipate the reengaging the spine market with the robotic application?
Bryan Hanson
I'll start with that one first. The goal would be to have a limited launch either right at the time or just right behind the rose in the application for spine. So spine would follow directly the rose in the application. And when we define limited launch, we don't get into specifics about how many robotic systems, what kind of revenue are we talking about in limited launch, the whole idea behind limited launch is to learn. Particularly, when we're talking about a robotic system, we want to roll this out in a safe and effective manner. We want to make sure that we have the right train that goes along with it and want to learn as we go. Are there any mishaps associated with product launch that we have and if so how do we correct those one a go forward basis. That usually takes us 5 to 6 months. And that's what we would expect probably that the further out piece of that and we're talking about the robotic systems plus about six months post the time that we limited launch. And to me again, I like to concentrate on individual products because they are important, and certainly when we talk about robotics indeed it is an important area for us. But most important for me is to have that full portfolio that allows us to go on full offence. And to have a robotics platform that complements what I truly believe that the best knee system in the marketplace allows us now some differentiation versus everybody else. The others may have a robotic system but they certainly don't have the Persona Knee System that we have with a personalized capability that brings to the table. And it also differentiates us because with robotics and the segmentation we had in these kind of good, better, best also provides us with some differentiation at that time because much of that like to rose the platform. I like that the fact that we're going to have robotics. I think the bigger story is it is a piece of the puzzle that will allow us to be differentiated first to their competition.
Cole Lannum
Thanks for that. We are coming up at the bottom of the hour. We just got suite one more quick question. And then we're going to call it operator. So last question please.
Operator
Our final question comes from Jeff Johnson with Baird.
Jeff Johnson
Bryan, that was hopeful to comment on the timing around the robot. But wondering on fetus just when do you think full launch there when will instrument set has to be built? You don't talk things like that on that. And then on the revision knee, same question, is about a six month after last year prelim launch that we should expect instruments that the kind of the whole commercial launch then on the revision as well?