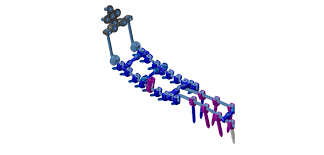 SPINE SURGEON WINS $112 MILLION IN ROYALTY BATTLE WITH MEDTRONIC (Orthopedics This Week)
An Indiana spine surgeon and inventor has prevailed in a five-year legal battle against medical device company Medtronic, with a jury awarding him $112 million in damages.
Rick Sasso, M.D., is a founding member and president of Indiana Spine Group and a board-certified orthopedic surgeon and a professor and chief of spine surgery at Indiana University School of Medicine, Department of Orthopaedic Surgery.
Sasso claimed that Medtronic violated contracts by not paying royalties on a pair of Sasso's patented inventions: a spinal-implant system and a screw-implant system. Sasso sold the patents to Medtronic, but alleged that the company stopping paying him royalties, breaching its obligations and acting in bad faith.
According to Sasso's complaint, his agreement with Medtronic provided for him to receive 2% of net sales on his inventions for a period of eight years. However, if a device was covered by a valid claim of a U.S. patent, then the royalty payments would continue for the life of the patent.
Sasso was the inventor of Medtronic's Vertex system, which Sasso alleges is still covered by valid claims of numerous patents. Vertex has an estimated $200 million of sales in the United States.
Sasso also claims that Medtronic undercounted sales, not paying him royalties on numerous products that used Vertex components.
Following a month-long trial, a six-person jury returned a unanimous verdict in favor of Sasso. The jury awarded the spine surgeon $112,452,269, which is exactly the amount that Sasso requested.
Sasso's attorney, Frederick Emhardt of Plews Shadley Racher & Braun, was pleased with the jury's verdict. He wrote, "After a month of evidence, they learned much about spine surgery and the business of medical device sales and the need to honor contractual commitments, even if they were made by persons no longer with a company…. In a period of six hours, they unanimously rendered a verdict awarding to a dollar what Dr. Sasso requested—$112,452,269. The jury system is a bedrock of our way of life. It worked exactly the way intended by our founders."