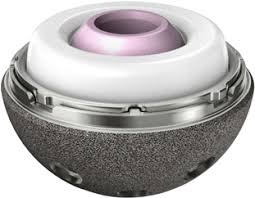 Study Finds "Dual Mobility" Hip Replacement Implant Reduces Risk of Dislocation (HSS)
More than 330,000 total hip replacements are performed in the United States each year. Overall, it is a highly successful procedure. However, as with all surgeries, a risk for complications exists.
Dislocation is one of the most common complications after hip replacement and the number one reason for revision surgery. A study by Geoffrey Westrich, MD, research director of the Adult Reconstruction and Joint Replacement Service at Hospital for Special Surgery (HSS), found that patients who received a newer implant known as a "dual mobility" hip replacement had zero dislocations. In comparison, study patients who received a traditional fixed bearing hip implant had a dislocation rate of 5 percent.
The research, which focused on patients under 55 years old, was presented today at the American Academy of Orthopaedic Surgeons Annual Meeting in New Orleans.
"We were especially interested in seeing how the younger patient population fared because they are generally more active and put more demands and stress on their hip after joint replacement, and this increases the risk of dislocation," Dr. Westrich explained.
Although the concept of dual mobility was originally developed in France in the 1970s, the technology is relatively new in the United States. "Dual mobility" refers to the bearing surface of the implant – where the joint surfaces come together to support one's body weight.
A hip replacement implant is a ball-and-socket mechanism, designed to simulate a human hip joint. Typical components include a stem that inserts into the femur (thigh bone), a ball that replaces the head of the thigh bone, and a shell that lines the hip socket.
"Dual-mobility hip components provide an additional bearing surface," Dr. Westrich explains. "A large polyethylene plastic head fits inside a polished metal hip socket component, and an additional smaller metal or ceramic head is snap-fit within the polyethylene head. Dual mobility means that there are two areas of motion, improving the range of movement and reducing the risk of dislocation."
Dr. Westrich and colleagues compared the dual mobility system with the traditional fixed bearing system in two age-matched groups of patients who had a primary total hip replacement over the same time period. There were 136 patients in each group with a mean age of 48.
At three-year follow-up, the researchers found that the patients who received the dual mobility implant had no dislocations. In the group receiving the standard fixed bearing implant, seven patients, or 5.1 percent, had a dislocation and needed a revision surgery.
"Total hip replacement is increasingly being performed in younger patients," Dr. Westrich said.
"The results of our study are encouraging for this active, high demand group of patients and may lessen concerns for dislocation. More research is needed to see how dual mobility implants perform over the long term."

About HSS | Hospital for Special Surgery
HSS is the world's leading academic medical center focused on musculoskeletal health. At its core is Hospital for Special Surgery, nationally ranked No. 1 in orthopedics (for the eighth consecutive year) and No. 3 in rheumatology by U.S. News & World Report (2017-2018). Founded in 1863, the Hospital has one of the lowest infection rates in the country and was the first in New York State to receive Magnet Recognition for Excellence in Nursing Service from the American Nurses Credentialing Center four consecutive times. An affiliate of Weill Cornell Medical College, HSS has a main campus in New York City and facilities in New Jersey, Connecticut and in the Long Island and Westchester County regions of New York State. In 2017 HSS provided care to 135,000 patients from 80 countries and performed more than 32,000 surgical procedures. In addition to patient care, HSS leads the field in research, innovation and education. The HSS Research Institute comprises 20 laboratories and 300 staff members focused on leading the advancement of musculoskeletal health through prevention of degeneration, tissue repair and tissue regeneration. The HSS Innovation Institute was formed in 2015 to realize the potential of new drugs, therapeutics and devices; the global standard total knee replacement was developed at HSS in 1969, and in 2017 HSS made 130 invention submissions (more than 2x the submissions in 2015). The HSS Education Institute provides continuing medical curriculum to more than 15,000 subscribing musculoskeletal healthcare professionals in 110 countries. Through HSS Global, the institution is collaborating with medical centers worldwide to advance the quality and value of care and to make world-class HSS care more accessible to more people.