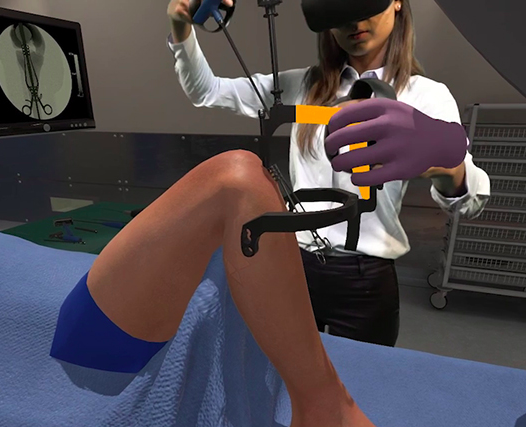 Surgical VR Firm Osso VR Launches Collaborative Training Tool: Exclusive With CEO Dr. Justin Barad (MedGadget)
Osso VR, a leading virtual reality (VR) surgical training technology company, has recently announced the launch of its collaborative training feature that allows multiple surgeons to train together in a single immersive VR space.
The option to train collaboratively offers improved learning opportunities for surgeons and the surgical teams regardless of their physical location and at a moment's notice, allowing for more efficient and frequent training sessions. It also allows medical device companies to offer unlimited training to multiple surgeons in one session. Surgeons can train one-on-one in a virtual environment, or as a group, without taking time away from their practice. This training is also ideal for newer staff learning to work with a surgical team, or for entire teams to learn new procedures or treatments.
It is known from many studies that team training positively impacts surgical processes and patient outcomes. Team training looks at more than technical skills, encompassing communication, teamwork, and leadership skills that each team member should possess. One of the biggest drawbacks to existing team training paradigms is that it requires all members to coordinate their schedules and be in the same physical space, which is increasingly becoming challenging in today's hectic medical world.


Led by orthopedic surgeon, Dr. Justin Barad, a former editor here at Medgadget, the Osso team has a deep clinical understanding, medical device industry expertise, and VR development background. Osso VR has a results-driven approach, allowing teams and individuals to not only practice procedures, but to objectively measure their performance through the proprietary analytics platform and dashboards.
"We have seen multiplayer VR become the norm in the gaming world and take off in social applications," said Barad. "Whether a surgical team is learning how to work together or a single surgeon is learning a new procedure with a medical device company, all training scenarios can benefit from removing the barriers of time, cost, location and other resources or variables. Our solution makes it easy to create a training environment whenever someone needs it, not matter where they are."


Osso VR currently works with top medical devices companies and is used in orthopedic residency programs across the country.
"The cost to live train a surgeon can be anywhere from $50,000 to $400,000," notes Barad. "Our technology cuts those costs and increases the training's value beyond a one-time impact. It limits the need to ship expensive equipment, and book flights, while removing the need for a surgeon to take time away from patients."
We had the pleasure of talking to Dr. Barad in an exclusive interview to learn more.

Alice Ferng, Medgadget: What is your background and what got you interested in medtech, and ultimately creating Osso VR?

Dr. Justin Barad, CEO & Co-Founder of Osso VR: I started out in life wanting to break into game development. However, as I neared the end of high school illness in my family drove me to wonder if I could use my passion for software and technology to help people and solve medical problems. In college, I chose to pursue bioengineering and as I was finishing my degree I was having a hard time figuring out how to go about inventing and innovating. My mentor, a gastroenterologist named Henry Lin, gave me the sage advice that in order to invent something you need to first deeply understand the problem. He thought the best way to understand problems in medicine was to become a physician. (It was around this time that I also joined the Medgadget editorial staff to write about and better understand technology as well!)
I chose to take his advice and went to medical school at UCLA.  I then stayed there to complete my 5 years of orthopedic surgery training and went on to do a fellowship in pediatric orthopedics at Boston Children's Hospital and Harvard followed by Stanford's Biodesign innovation fellowship.
It was during training that I experienced first-hand what I believe to be the biggest problem facing healthcare today: how we train and assess our providers. Right around this time VR was having a renaissance and because of my background in game development I was involved very early. I saw this as an incredible solution to the growing training gaps in medicine and decided to do something about it. After showing a prototype I had built to a professional game developer we joined forces and founded Osso VR in order to improve patient outcomes, increase the adoption of higher value procedures and technologies and democratize access to surgical education.

Medgadget: What were some of the toughest initial hurdles to overcome when you first started the company?
Dr. Barad: It seemed like everything was a tremendous challenge back then! Early on finding a good technical co-founder seemed like it would never happen. I was attending a lot of events and meeting a lot of interesting people, but no one seemed to have the drive (or sometimes frankly talent) to be a good partner. Magically, I found Matt on an online VR forum. He had recently left a pretty amazing position at Electronic Arts to pursue a growing passion of his, serious VR. It felt meant to be and things have been a rocketship ever since our first phone call.
The next challenge was pretty personal in nature. I was well on my way to be a full time academic orthopedic surgeon.  As I was starting the job interview process, there was accelerating interest in the work we were doing with Osso. It suddenly became clear that I wouldn't be able to both solve this problem and pursue my academic career. I had to make a choice. It was a very hard decision and friends and family were pretty divided over what I should do. Ultimately, I decided on pursuing not only a problem that I was immensely passionate about, but also a problem so large that even solving a little bit of it would make me feel like I had accomplished my goal and done something that benefited patients and colleagues around the world.


Medgadget: Tell me more about the statistics regarding training workshops for surgeons (e.g., to learn new devices). What does the costs look like? Travel time? Training time? Effectiveness?
Dr. Barad: Many people don't realize this, but the vast majority of our training with medical technology is sponsored by the manufacturer of the device in question. Typically these take the form of an in-person bioskills lab, where you have the opportunity to practice on a cadaver. Usually, this requires a few days for travel, and the hands-on portion itself is typically limited to a single "run through." Just one of these courses can cost a company anywhere from $100k-$500k due to the cost of shipping all the equipment, travel, boarding, and cadavers.
The hope is that after the course a surgeon can successfully use the device in question with his/her patients, see the benefits, and continue to use it. Unfortunately, devices have become quite complex, with ballooning learning curves, meaning it sometimes takes 100 cases in order to use a device safely. In addition, there are often large gaps between these courses and actually inpatient use, sometimes as long as six months. Another critical issue is the lack of any kind of objective assessment of proficiency. It is usually just assumed that after a course a surgeon is ready to do the procedure, but they are never actually tested to see if this is the case. If surgeons and companies had insight into their proficiency they would likely spend more time training before using a new technique with a patient.
Because of the above issues the typical outcome in the majority of cases is what is called "the one and done phenomenon," in which a surgeon will use a device once, something will go horribly wrong, and they will perceive it to be unsafe and choose not to use it.

Medgadget: What about metrics? What metrics does Osso VR track to determine training efficiency and effectiveness? What were metrics used more traditionally in those training workshops, and how does Osso VR offer something "better" or more ideal?
Dr. Barad: As I mentioned earlier, there is little to no assessment that takes place during these workshops, so both the manufacturer, and the surgeon, (and the patient too!) have no insight into how safely the procedure will be performed.  In fact, there is little to no technical assessment that happens at any time in a surgeon's career.  They do not get assessed when applying for residency typically, during training, and certainly never when in practice. Compounding this issue is disagreement on what constitutes valid measurements of surgical skill and is a very exciting area of research and debate.
Osso VR allows for the automated assessment of surgical proficiency and performance using a variety of metrics.  The foundation of our analytics system are existing surgical scoring paradigms such as the Global Rating Scale, Objective Structured Assessment Toolset, and other validated systems.  In addition, our system allows for the continued use of currently existing manual forms of subjective and objective assessment through our remote mentoring capabilities and the ability to review runthroughs with trainees.
As we continue to develop this functionality we are implementing some exciting new approaches to answer the question of what is a proficient surgeon and how can we assess them in an automated and accurate fashion.



Medgadget: What does Osso VR do that wasn't available on the market when you first started the company?
Dr. Barad: Simulation is not new in healthcare, yet it has never really taken off, especially when it comes to open surgery and complex medical devices. I witnessed this firsthand during my training and noticed a number of issues with the existing approach:
Too expensive: Hospitals and training programs typically have limited budgets. A typical simulator could be $200k-$250k with ongoing maintenance costs of $10k/year. While there are some pretty amazing and well-funded simulation centers scattered across the country, they are few and far between.
Too limited: Older simulators typically only simulated one type of surgery, limiting its usefulness. Also, with the speed of technology change and turnover simulators would quickly become outdated or obsolete with no clear pathway to address this issue given the massive capital investment.
Too big: The simulators at that time were quite large and not easily transported. This usually meant that in order to use it a resident must travel to a separate simulation lab in their free time when they already aren't eating lunch and barely have time to use the bathroom between cases.
Too much haptics: Grounded kinesthetic haptics (or force feedback) was seen as THE most critical element of a surgical simulator, yet there was a copious amount of literature showing that it didn't seem to improve the skill transfer (ie the educational value of the simulator). In fact, a study released last year showed that a simulator with overblown haptics actually made participants worse than no simulator at all. The theory in that study was because the haptics weren't 100% realistic, they were actually training people incorrectly, much as if you were training a professional basketball player on an arcade basketball hoop. Adding custom force-feedback haptics does, however, increase cost and demonstrably decreases the user experience and realism due to uncanny valley issues.
No clear value proposition: While there were claims about training efficiency and patient safety, there really is no strong financial or patient outcome metric simulation companies of the past could point to in order to justify the expense.
With this knowledge, we ensured that Osso VR would be affordable, flexible, portable, have a lighter touch with haptics and a clear value proposition. We do this by using off the shelf VR hardware, which allows us to focus on the software component of the simulation and theoretically simulate any type of procedure. We utilize the cutaneous haptics within the VR controller to a lighter degree, avoiding uncanny valley issues. Finally, our value proposition is clear. We drive the adoption of newer medical technologies by more effectively training and assessing people in their use.


Medgadget: A new multiplayer VR feature was recently added – can you tell me more about this?
Dr. Barad: Collaborative virtual training unlocks two key use cases: team training, and remote coaching.
Surgeons often like to analogize themselves to athletes, and surgery is very much a team sport. Unfortunately, almost all of the focus of training resources tends to be on the surgeon often not giving other members of the team the same opportunities. It is as if you are training the quarterback, while the rest of the football team stays home till gameday. Even if you do put in effort to train the team it is tremendously difficult as it is almost impossible to get the whole team in the same physical location. Further compounding this issue is that are often multiple teams a surgeon will work with, and members are commonly swapped out mid-case.  At late night hours it is very common for OR staff to have very little experience in the relevant specialty at hand and usually zero experience if a new device is being used. The result is that even with a competent surgeon performing new procedure, they are more focused on what other team members are doing and not on the patient.
Our collaborative training feature allows for easy, convenient team training from any physical location. Each team member accesses Osso VR from their own setup, which can be at home or even in another country, to join the team in the same virtual space so that they can rehearse the technical components of the procedure in addition to refining soft skills like communication and coordination.
The other critical use case of collaborative training in VR is remote coaching and mentoring. When surgeons complete their residency or fellowship training, they usually cease to receive and constructive guidance or observation to continue to refine their technical and soft skills. This is an alarming trend and critical deficiency of our profession when compared with others which Atul Gawande highlighted beautifully in his New Yorker piece, "The Coach in the Operating Room." Unfortunately surgeons are incredibly busy, and do not have the luxury of taking time away from their patients to travel to coach young surgeons in need. Virtual reality removes the need to travel, and allows the learning team to run through procedures and get real-time feedback just as they would in real life. This also democratizes access to expertise, so that leaders in remote locations can share their techniques and opinions with a much wider audience.

Medgadget: What else is unique to Osso VR that makes it stand out from competitors? Who are your competitors? And what is in the works?? Or is this top secret?
Dr. Barad: So many great questions!  Piggy-backing off of the above, I will say that when first starting out we were told by many experts that this approach would never work, yet it is quickly becoming a standard for training and assessment.  We're excited to see some other companies following us into the space, which further validates the problem we're working on.
I could go on and on about specific aspects of our technology and traction that clearly sets us apart, but ultimately there is one thing that I feel makes us special:  we understand the problem we are trying to solve.  Our mission-driven team is made up of fully trained clinicians, medical device industry veterans, medical illustrators and professional game developers who act not as software vendors, but strategic partners.  We've done these surgeries and we've trained and assessed people to do them.  We understand what works well currently and what does not and we know what success looks like.  This understanding gives us the ability to tell a compelling story, encourage behavior change in critical stakeholders and prioritize effectively to efficiently build out the solution to one of healthcare's greatest challenges today.