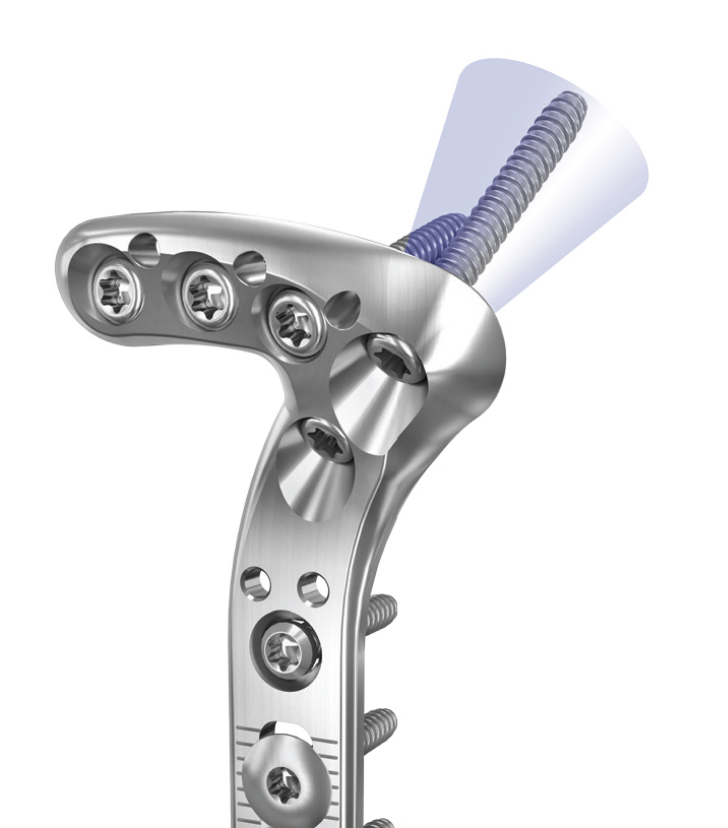 Globus Medical, Inc. (NYSE:GMED), a leading musculoskeletal solutions company, is pleased to announce its entry into the orthopedic trauma market. Globus Medical has become a market leader in spinal device innovation, offering differentiated products and disruptive technologies in a competitive spine market, making it one of the fastest growing companies in orthopedics.  Integrating a well-known culture of speed to market and leveraging its robust product development engine, Globus Medical is poised to become a significant player in the orthopedic trauma market.
"Globus has demonstrated an unprecedented level of surgeon responsiveness resulting in the most comprehensive spinal product portfolio on the market.  We aim to continue that tradition in orthopedic trauma by leveraging a dedicated product development team with a highly trained, direct sales force to bring our innovative and efficient systems along with the best support to our surgeon and hospital customers," said Barclay Davis, Vice President, Orthopedic Trauma.  "We feel we can capitalize on our strengths of innovation and speed to market to bring game changing technology in the trauma market."
11 New Products FDA Cleared
Globus Medical will display its growing suite of technology solutions for trauma products this week at the American Association of Orthopaedic Surgeons' annual meeting in New Orleans. To date, Globus has received FDA 510(k) clearance for 11 products, covering the major segments of the orthopedic trauma market – fracture plates, compression screws, cannulated screws, intramedullary nails, and external fixation.  This product portfolio is designed to treat a wide variety of fracture patterns and accommodates varying patient anatomies in the upper and lower extremities as well as hip and long bones. Each comprehensive system is optimized to streamline procedures and increase versatility, potentially reducing procedure time and expediting patient recovery.
Globus received FDA clearance for the following systems:
Comprehensive ANTHEM Ankle Fracture System including advanced distal Fibula plates, Cannulated Screws and key Small Fragment Plating components
ARBOR External Fixator System enabling fracture stabilization using one style clamp and one instrument
AUTOBAHN Tibial Nailing System offering both infra-patellar and supra-patellar approaches and innovative locking options
ANTHEM Small Fragment Plating System for general fractures with locking and non-locking implants and radiolucent instruments
Comprehensive ANTHEM Distal Radius Fracture System for wrist fractures that includes innovative volar, dorsal, and lateral plates as well as a robust new bridge plate
ANTHEM Proximal Humerus Plating System for shoulder fractures incorporating variable angle calcar screws and radiolucent instruments to simplify intra-op visualization and optimize implant placement
AUTOBAHN Trochanteric Nailing System for efficient geriatric hip fracture reduction and fixation
Comprehensive CAPTIVATE Compression Screw System for general fracture care including headless screws and an innovative variable-length family of screws for tough-to-reduce fractures or when bone purchase is limited
Comprehensive AUTOBAHN Femoral Nailing System with Recon screw options in both Piriformis and Troch-entry style nails
ANTHEM Proximal Tibia Plating System with innovative triple kick-stand screw fixation, integrated polyaxial rafting screws, and a novel radiolucent aiming arm for percutaneous fixation
ANTHEM Clavicle Plating System with innovative plate contours optimized for clinically-based fracture zones
"It has been impressive watching Globus move from design to development to deployment of their comprehensive trauma solutions line," said Dr. Andrew N. Pollak, Chief of Orthopaedics at the University of Maryland Medical System. "I have been very impressed with the ability of Globus' engineers to translate surgeon ideas and concepts into functional and easy to use implants for a wide variety of fracture patterns."
Discover Globus Medical's orthopedic trauma product line at the American Association of Orthopaedic Surgeons' annual meeting in New Orleans, March 6- 11th in Booth 4371 or visit www.globusmedical.com/trauma.
About Globus Medical, Inc.
Globus Medical, Inc. is a leading musculoskeletal solutions company based in Audubon, PA.The company was founded in 2003 by an experienced team of professionals with a shared vision to create products that enable surgeons to promote healing in patients with musculoskeletal disorders. Additional information can be accessed at http://www.globusmedical.com.