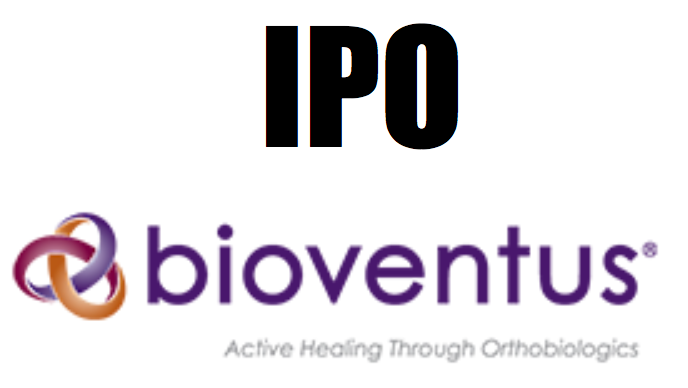 Bone-Healing Therapies Firm Bioventus Files for IPO (Xconomy)
Bioventus, a company that develops treatments that harness the body's own biology to help bones heal, is joining the list of life science firms lining up to go public.
The Durham, NC-based biotech company filed paperwork on Thursday for a $150 million initial public offering to raise funds to pay off debt. That dollar figure is a placeholder and will likely change as Bioventus determines how many shares it will sell and at what price. When the company does go public, it expects its stock will trade on the Nasdaq under the stock symbol "BIOV."
The company that is now Bioventus was the biologics and clinical therapies division of London-based medical technology company Smith & Nephew (NYSE: SNN). In 2012, Smith & Nephew teamed up with healthcare investment firm Essex Woodlands to form a joint venture that transferred much of Smith & Nephew's Durham-based biologics unit to a new company bringing biological approaches to orthopedic treatments. Essex Woodlands owned the majority stake in the venture, named Bioventus, which continued to operate from Durham.
Bioventus' competitors in orthobiologics include Sanofi (NYSE: SNY); DePuy Orthopaedics, a subsidiary of Johnson & Johnson (NYSE: JNJ); and Warsaw, IN-based Zimmer Biomet (NYSE:ZBH). In the filing, Bioventus says it believes it is the only company focused exclusively on orthobiologics that has annual sales topping $100 million. In 2015, Bioventus reported $253.7 million in revenue, up 4.4 percent compared to 2014, according to the filing. But the company's net loss widened from $11.3 million in 2014 to $31.9 million in 2015. Bioventus breaks out its business into four divisions: active healing therapies—U.S.; active healing therapies—international; surgical; and bone morphogenetic protein. The largest of these units is its active healing therapies—U.S., accounting for $192 million in 2015 revenue. Research and development spending in 2015 totaled $14.7 million, up 54.7 percent from 2014.
In the filing, Bioventus acknowledges that its revenue depends on a limited number of products. Two products, Exogen and Supartz FX, comprised 83 percent of the company's 2015 revenue. Exogen is an ultrasound bone-healing medical device that was originally developed within Smith & Nephew. Introduced to the U.S. market in 1994, Exogen works by stimulating cells to form new bone. Supartz, an injectable solution approved to treat knee pain from osteoarthritis, launched in the United States last year.
Bioventus has expanded its product pipeline in recent years through a series of deals. The company's bone morphogenetic protein division came from Pfizer (NYSE: PFE) through a 2013 licensing agreement. This technology aims to use naturally occurring proteins in the body to stimulate bone growth. In coming years, Bioventus will owe Pfizer milestone payments as product candidates from that deal hit development and regulatory milestones. Bioventus expects the first product candidate from the Pfizer deal will enter clinical trials within the next 18 months.
In 2014, Bioventus acquired the orthobiologics product line of OsteoAMP for $17.7 million. A little more than a year later, Bioventus paid $81.4 million to acquire BioStructures, a company that had developed products for bone graft surgeries. The latest Bioventus deal was Gelsyn-3, an osteoarthritis treatment whose rights the company acquired in February from Swiss company IBSA. Bioventus plans to launch that product later this year.
Bioventus employs 650 people, most of whom are based in the United States. As of April 2, Bioventus had $6.1 million in cash and cash equivalents, and $60 million in total debt, according to the prospectus. In 2014, Bioventus had entered into credit agreements with a syndicate of lenders for a $115 million term loan and a $60 million term loan, as well as a $40.0 million revolving credit facility. Bioventus says in the filing that it expects that its cash, available credit, cash flow, and net proceeds from the stock offering will be enough to meet the company's cash needs for the next 12 months.
After completing the IPO, Bioventus says it will be a controlled company, which means that more than half of its shares will still be owned by a single entity. Besides Essex Woodlands, other stockholders in Bioventus include Smith & Nephew, Spindletop Healthcare Capital, Pantheon Global Co-Investment Opportunities Fund, Ampersand Capital, and Alta Partners, according to the filing.