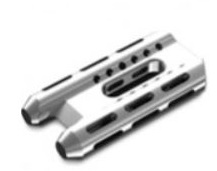 NEW SI JOINT FUSION SYSTEM CLEARED (Orthopedics This Week)
There's another sacroiliac joint (SIJ) fusion system available in the U.S. market after the FDA granted 510(k) clearance to Tenon Medical, Inc.'s Catamaran fixation system.
In a June 20, 2018 press release, the company stated that their system is the first patented single implant sacroiliac joint fixation system using a "true" posterior approach for minimal tissue disruption.
Calling it "landmark" innovation, Tenon CEO Dr. Kal Mentak said this makes the Catamaran the first system that allows surgeons to use either a navigated procedure or fluoroscopic imaging providing flexibility in access and visibility.
The system is indicated for sacroiliac joint fusion for conditions including sacroiliac joint disruptions and degenerative sacroilitis.
According to patent filings, in one embodiment, "a tool assembly may be advanced from a posterior approach into the SI junction and configured to create a defect defined at least in part by portions of both the sacrum and the ilium, the defect having a three-dimensional shape defined in part by at least one noncircular cross-sectional shape in a plane substantially perpendicular to the longitudinal axis of the tool assembly. After a defect is created, the tool assembly may be retracted, and a prosthesis deployed into the defect."
It took the FDA a little under three months to grant clearance.
In November 2016, the company was granted the first U.S. patent covering a novel minimally invasive posterior approach fusion system to stabilize the SIJ. The company subsequently filed for additional compositions.
The company raised $500,000 in seed funding in October 2012.
Founded in the San Francisco Bay area, the privately held company is a project of The Catalyst Tech Innovation Group (CTIG) which is pioneering a startup category focused on developing disruptive medical technology to address unmet clinical needs. The group says its project companies are self-funded, clearly defined business model supported by an R&D group.